Health and Fun
We have known Sloan for about 10 years and find that training with him is extremely rewarding and a lot of fun!  When we first started our training, we had health issues we needed to address.  He is very knowledgeable about nutrition and every aspect of training and has helped us tremendously.  Sloan is very good at tailoring each person's workout according to their ability and different needs and varies each session so there is never boredom with the exercises.  He seems to always find the best way to get maximum benefit.  He is also very encouraging and makes you want to do your best.
Sloan is a "down to earth" person and great to work with.  He is always in a good mood making our workouts enjoyable and we feel very lucky to be able to train with him!  We would highly recommend Sloan to anyone!
True Professional and Friend
I have been training with Sloan for 12 years. To keep in shape and continue to keep my back and neck healthy. (A lifesaver)!
I have lost 20 LBS.! I have become more flexible! I have confidence in doing day to day activities.
Sloan has your best interest in mind! He personally cares about you in the gym and in your everyday life. (A true professional and friend)!
II have and will always recommend others to work with Sloan. His knowledge and bed side manner are above reproach!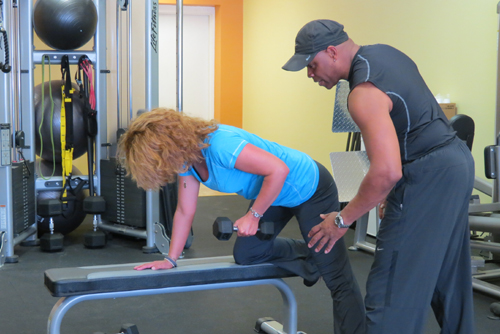 Surprise and Strength
My husband, Gene, and I have been working with Sloan for 14 years. I first spotted Sloan training someone at a local gym and liked that he was always smiling and encouraging. I asked for a couple of trial sessions and the rest is history.
Many people have asked why we are still with the same trainer and don't we get bored? My answer is always the same, I train with Sloan so I will stick with a program and not get bored!  I accuse Sloan of lying awake at night dreaming of ways he can push us a little harder. (always with a smile on his face!)  Every day at the gym is a new day with Sloan and you have no idea what to expect.  We could spend the time on the machines, go outside and run with a weight vest or head to the nearest stadium and run the stairs.  It is always a surprise and always leaves you exhausted and proud of your accomplishment.
Sloan has trained us through sports endurance, surgery recovery and broken bone rehab.  His knowledge is incredible on how to help strengthen the body and mind to keep you on a healthy track through life. In fact, both of our doctors recommended Sloan's rehab program over the ones at the hospital!
Referring friends to Sloan is something we have done with more people than we can count.  He motivates people to be their best and work harder than they think they can.  He has been a tremendous role model to all three of our sons and continues to influence their college lives when they are home.
Training with Sloan is a part of our life that we can never imagine being without.  He keeps us healthy and ready for what life throws at us and anything is worth that!
Results and Motivation
I have been training with Sloan for 7 years. I train with Sloan because I want to stay fit & maintain my muscle mass. It is also a great stress reliever.
My results are simple; I have maintained my body size, kept fit & maintained muscle strength. I appreciate the fact that Sloan truly cares about his clients and their health. He often follows up with me when I am sick or unable to keep my appointments.
I recommend Sloan because he gets results and has excellent motivational skills.
Friend
I have been training with Sloan for over 10 years. We have developed a relationship that has taken us from trainer/trainee to become best of friends. During this time I was diagnosed with a rare cancer. Sloan wanted to know all about the cancer and what the DR's would be doing to remove the tumors. He developed a regimented work out to ensure I was in terrific shape go through the surgery. When I came home after 3 weeks in the hospital Sloan came to visit so I thought! He had me walking stairs for my first work out. Then after that he came twice a week for work outs. Four months after the liver surgery I went to Israel and rode a camel! The Drs were astounded that I went to Israel say nothing of the feat of riding a camel. I achieved this because of Sloan's caring and training but more importantly I was his friend. He wanted me to be my old self following the surgery. I would do anything for Sloan and I as I know he did do for me.
Energy and Strength
I have been training with Sloan for 2-1/2 years. He puts a lot of thought into each session thinking about what I need to get stronger, to have a more balanced body and how he can challenge me. He is forever coming up with new ways / exercises to work different areas of my body. When I am having a physical problem (my lower back for instance), Sloan works with me to resolve the problem or work around the problem.
My workouts help me stay fit in order to work my garden/landscape business. Without Sloan's help and challenging me to do more, I would not be able to accomplish as much in a day of landscaping as I do. One more thing–he cares about his clients and what is going on in their lives. Thank you Sloan! Oh, by the way I am a 67 year old grandmother of four (4).
Fun and Health
I started training with Sloan on my 50th birthday. Sloan and I share a passion for Schutzhund dog sport and it was very obvious my weight was hindering my abilities to accomplish my goals.
Sloan re introduced me to good eating habits (I knew about them; just needed more coaching). While working with him I lost weight and increased my strength and endurance beyond measure. My overall health is so much improved.
Sloan is totally honest and knows just how far to push; we have to push to improve always!!
I enjoy working out with Sloan. He is a tough coach but he also is fun to work with. He mixes up the routines so you get the optimum workout and there is no boredom!! The biggest problem with any workout is getting bored!