Get Fit. Stay Fit. For Life.
Are you someone who is looking for a workout that:
keeps you healthy, strong and vital
supports and strengthens your golf game (or any other hobby sport)
increases your metabolic rate, helps you lose inches, and makes you feel great
tones your body and strengthens your core
prepares you for or rehabs you from a major surgery
or
gets your teenage children involved in a healthy and active way of living?
Here you'll find all the information you need to begin your journey to a lifetime of better health.
As a personal trainer located in the heart of Sandy Springs, GA and with more than 18 years of experience, I know what works and what doesn't work when it comes to getting results from your workout. So, whether you're looking to tone up and lose a few extra pounds, train for a sports competition or dramatically transform your body, I can help you get the job done!
Now, I won't promise you quick fix results. But, what I can promise you is that I'll be right there with you every step of the way as a dedicated trainer and a friend.
So, if you're ready to get fit and stay vital, I invite you to a complimentary training session at our Get Fit – Personal Training studio conveniently located in Sandy Springs, GA, less than 1 mile outside of I-285 off Roswell Road.
The address is Centre Court Shopping Center, 6022 Sandy Springs Circle, Sandy Springs, GA 30328.
Call me today at (678) 595-1064 and I'm looking forward to welcoming you at our studio.
Committed to Your Success and Well-Being,
Sloan
Facility Location:
Centre Court Shopping Center
6022 Sandy Springs Circle
Sandy Springs, GA 30328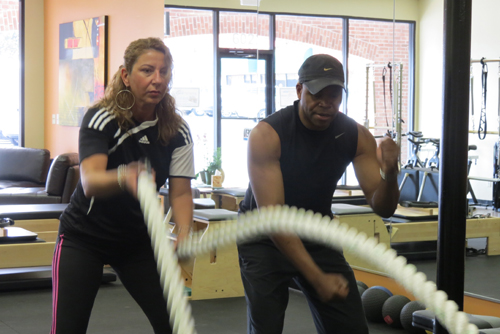 When it comes to personal fitness programs, there is no one-size fits all. People have different levels of flexibility, agility, and strength. However, when it comes to "wish lists" for bodies. I know. Having trained clients for more than 17 years, I know what women...
read more